A History of the Melvin Family
As read by Samuel J. Melvin at the Melvin Family Reunion
held in Riverview Park, N.S. Pittsburgh, Pa. on August 28th, 1909.
Download typed notes of this speech
---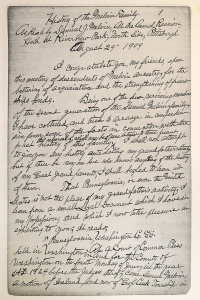 I congratulate you, my friends, upon this meeting of the descendants of Melvin ancestry, for the bettering of acquaintance, and for the strengthening of friendship's bonds.
Being one of the few (7) surviving members of the second generation of the Samuel Melvin family, I have collected and tried to arrange in comprehensive form, some facts in connection with the past history of this family, the rehearsal of which may be of some interest to those present.
I shall not attempt to give you any history antidating my grandfather's time, but if there be any one here who knows anything of the history of my great-grandparents, I shall be glad to hear it of them.
That Pennsylvania, or even the United States, was not the place of my grandfather's nativity, I learn from a small legal document which I have in my possession and which I now take pleasure in exhibiting to you. It reads:
Pennsylvania, Washington County
At a Court of Common Pleas, held at Washington, in and for the Count of Washington, on the 4th Monday of June, A.D. 1824, before  the judges thereof, came Samuel Melvin, a native of Ireland, and now of Cross Creek Township, in said County, and presented his petition praying to be admitted to become a citizen of the United States of America, and he having to the satisfaction of the Court complied with the provisions, of the Act of Congress, in such case made and provided, and having taken the oath prescribed by law, was admitted to become a citizen of the United States.
In testimony whereof, I, William Sample, Prothonotory of the Court of Common Pleas, in and for said County, have hereunto set my hand, and affixed the seal of the said Court, at Washington, the 28th day of June, in the year of our Lord, One Thousand Eight Hundred and Twenty five.
(Signed) William Sample, Prothonotory
On the back of this certificate we find this inscription:
"Certificate of Naturalization of Samuel Melvin, Fees, $2.00"
When my grandfather came to Washington County, he did not at first settle upon a farm of his own, but on a farm known as the "Abram Barber Place," where he erected a "log cabin" cooper shop, and carried on the business of barrel making.
When visiting that section of country a few weeks ago, I entered an old log barn which stands not far from Bethel Church, in sight of the Barber farm, and was shown a barrel which Grandfather built when he worked there. The chime hoops were made of hickory poles and appeared to be the originals, while one of wire and one of strap iron supplied the other two places. It is a hogshead, capacity perhaps 125 gallons. It is related of Grandfather Melvin that while he worked at the cooper trade he had an order for a large barrel, or hogshead, and when he had it completed, it was too large to pass through the door of the shop, so he quietly removed the clapboard roof and took it out there. I do not know if the existing barrel is the one which caused the trouble.
The geneology of the Melvin Family seems to be traceable to two brothers, Samuel and William, who, with their parents came to this country when they were but boys, located in Cecil County, Maryland, and there grew to manhood years.
SAMUEL MELVIN (my Grandfather)
Born March 28, 1772. Married Tamar Miller on Dec. 31, 1795. Died March 17th, 1826. (Age 54)
History records that this Samuel Melvin, with Tamar, his wife, and family, came to Washington County, Pennsylvania in the year of our Lord 1803, making a period of about eight years of their married life spent in Maryland.
To Samuel and Tamar Melvin were born nine children:
Ann
Sarah
John
William
Henry
Tamar
James
Samuel
Lydia
Ann Melvin: Born February 21, 1797. Married Edward J. Jones, March, 1840. Died January 12th 1875. (Age 78) Childless.
John Melvin: Born March 5th, 1799, was never married. Died October 13th, 1821, (Age 22) and was buried in the same grave with his mother in Bethel Cemetery – a double funeral.
Henry Melvin: Born, April 29, 1801. Married Alzina Thayer December 29 , 1825.
To Henry and Alzina were born 11 children whom they named as follows:
Samuel
Nathan
Oscar Fitzalen
Enos Woodward
William
Charles Edwin
Alzina
Philena
Sarah Ann
Mary Amanda
Lydia Jane Violetta Caroline
Sarah Melvin: Born April 2, 1803.
You will note that this is the year in which the Melvin family came to Pennsylvania; but since the month in which they came is not mentioned, I am unable to state whether Sarah was born in Cecil County, Maryland or in Washington County, Pennsylvania.
Sarah was never married. She died in Washington County, Pa on December 5th 1873. (Age 70)
William Melvin: MY father. Born June 9th 1805. Married Abagail Jones June 14, 1827, a little more than one year after the death of his father. He died December 23, 1888. (Age 83)
William was the father of seven children. Their names, as recorded are:
Ann
Samuel Jones
John
Lydia
Tamar Elizabeth
William
Mary
All are now dead but Mary, and Samuel J.
Tamar Melvin: Was born August 23, 1807 . Married George Elliott November 12th 1829.
Died February 17th 1886. She was t he mother of eight children, namely,
Benjamin Franklin
John
Samuel
Leander
Clark
Albert Bisher
George
Tamar Ann
Of these, Albert B. alone survives.
James Melvin: Born March 9th 1810. Married Philana Thayer November 7, 1833.
He was the father of five children, namely:
Thayer
James Albert Burns
John Henry
Sarah Tamar
William
Of whom, so far as I know, the last two named are the only survivors. (Sarah T. since dead)
Samuel Melvin, Jr.: Born august 1st 1812. Not married. Died June 21, 1824. (Age 12)
Lydia Melvin: Born November 9, 1816. was married to James T. J ones April 26, 1836. Died February 27, 1837 (Age 21) leaving an infant son named Samuel Harlin Jones who died quite young.
I might remark just here that the markers placed at the head of the graves of the older stock of Melvins in Bethel Cemetery, are of the sandstone variety, and are showing t he effects of time. Some of them are scaling off so badly that parts of the inscription can no longer be read, hence I could not learn his age, or the date of Samuel Harlin's birth or death.
SECOND GENERATION
I turn now to the consideration of the second generation, and will give you a few facts concerning my father's family.
Ann, my oldest sister, married David Thorley January 26, 1847. She was the mother of five children:
William M.
Samuel
Albert Jones
John Alpheus
Sarah Alma
William M. is married and has a family of grown children, – in fact he is now entitled to be called Grandfather.
Albert J. is married, and has one daughter, also married.
The other three members of Ann's family are still leading a life of single blessedness and occupying the home nest.
Ann died March 7th 1908, in her eightieth ear.
John Melvin, son of William:  Born January 2, 1831. Married Susan C. Boles December 14th 1854. Died October 14th, 1907. (Age 76) John's family were three in number:
Nannie Jane
Anna Mary
Francis Moore
Of them, Anna Mary died when she was a little more than two years old. Nannie Jane married a prosperous farmer, and is the mother of a large family.
Francis Moore also married and was the father of six children, when he was accidentally killed on the railroad June 3rd 1902. John Melvin's widow, and the widow of Francis M. with her family still live on the old farm near Hanlin Station in Washington County, Pa.
Tamar Elizabeth: Born October 29, 1832. Married Robert Hamilton March 10th, 1859. Died March 31, 1889. (Age 57) She was the mother of six children, only one of whom, William H. and her husband Robert, are now living.
The children were named:
William Henry
George
John Brown
Mattie Scantling
Samuel
Nannie Elizabeth
Mary Melvin: Born October 23, 1835. Married Cyrus M. Stephenson May 24, 1866, and to this union were born four children, one son and three daughters. William M., her only son, was accidentally killed when about eight years old. Anna B. married Rev. John Dimit, now of Waynesburg, Pa. and is the mother of three children.
Mary E: married Edward Weaver, now of Oakdale, Pa. and is the mother of two children.
Virginia: married Oscar Smith, who died after a brief space, leaving no issue.
Cyrus M.Stephenson: died September 26, 1887.
Samuel Jones Melvin, (your humble speaker): Born February 3, 1839. Married Miss Helen Hanlin on November 14, 1867. To this union were born five children named as follows:
Charles Pattison
Mary Grace
William Alexander
Alice Gertrude
Galbraith Stewart
William Alexander:  died when about seven years old.
Charles P.: Married Miss Florence Chambers of Pittsburgh, Pa. October 6, 1892.
And the others! Well they are here to tell their own story.
Some people call me "Old Man" and "Dad." I suppose they have a right to. Perhaps some address me thus because my shoulders are shaped so much like the ground on which Allegheny County's Court House stands, and of the removal of which we read so much in the newspapers. Possibly because of the color of my whiskers.
Some call me "Uncle" and "Uncle Sam" and they have a right to, for have quite a number of nieces and nephews, but if there is living any one who has a right to call me "Grandpa" I have not yet heard the glad news.
Lydia Melvin,  my youngest sister. Born February 13th 1843. Married Robert P. Cooper October 3, 1865. Died January 23, 1881. (Age 38) (Robert P. since dead.)
Lydia was mother to four children:
Mary E.
Annie B.
Lawrence
William Henry
Of this family all are dead except William H. Mary had married and left two small children.
William Melvin, Jr. Born August 22, 1846 . Married Priscilla Cosgrove May 29, 1872, Died April 29th 1909. (Age 63) He was the father of three children, named:
Clyde Vernon
Margretta Aurora
Gaylord Cosgrove.
History does not record that any of these has taken a life partner, either husband or wife. They still occupy and cordially welcome to the old homestead those who formerly called it HOME, and also all other relatives and friends.
Peculiar Marriages
Having thus briefly mentioned some facts in connection with the history of parties before named, I may be pardoned for speaking of some peculiar marriages which caused double relationship without any blood kindred being married.
Two of my father's brothers married sisters named Thayer
My father married Abagai Jones, daughter of Edward J. Jones
Edward J. Jones married my father's sister Ann for his second wife
My oldest sister, Ann, and her aunt Mary Jones married brothers named Thorley
My mother's two sisters married two brothers named Criss
Two of my Criss cousins married sisters named Virtue
Two of my Criss second cousins married sisters named Stroud
My father's youngest sister married James T. Jones,

his

brother -in-law
Connected with these marriages there is a very interesting study concerning the entire relationship existing between the entire relationship existing between the contracting parties and also between their posterity.
My Grandfather's brother, William Melvin, Sr., came to Washington County, Pa. five years after his brother's arrival, afterward moving to West Vrirginia, then in 1848 settled in Burgettstown, Pa. where he died in 1856. I have in my possession a good picture of his son John and some of his family.
I can give you but little of the history of this man' s descendants. I know of one of his grand-daughters who lives in Washington County. One of his great-grandsons, Ernest Melvin, recently opened a new drug store in Brookline, and two of Ernest's brothers are publishing a paper called, (I think) "The Claysville Record" in Claysville, Washington County, Pa.
If any of the descendants of William Melvin are here today, I shall be exceedingly glad to form new acquaintance, or possibly renew an old one.