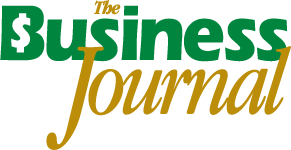 This column was published in the June 2005 Issue of The Business Journal.
---
They were brothers, Forest and Leroy Raffel, and they owned a restaurant supply business in New Castle, Pa.
The Raffel brothers had an idea – a dream, if you will. Hamburgers were OK but they believed that a hot roast beef sandwich eaten like a hamburger and served on a bun would find a place in the fast-food market.
The Raffel brothers had a vision of what their roast beef sandwich would look like and taste like. Day after day, week after week, they worked on their idea. To tell the truth, I don't know how long they worked to create what we know today as an Arby's sandwich. Every detail of presentation was carefully considered. Their restaurant building itself was designed to look like the old chuck wagon the wild-west cowboys used on a cattle drive.
After all the details of the beef preparation and presentation were figured out to their satisfaction, the brothers were ready to market their creation. They needed an identifying mark to set their.sandwich off from the rest – something that would incorporate roast beef with Raffel brothers.
Of course the two letters "R" and"B", for roast beef, came to mind immediately when the brothers came to us (Ira Thomas and Associates) to handle the marketing and advertising. Our first assignment: Design a logo to be incorporated into the sign and all promotional materials.
"R" and"B" had to be used in some manner. We went to work and presented hot branding irons being pressed onto the smoking flank of a steer- not at all appetizing. We presented idea after idea as we worked on other projects always leaving a hole wherever the logo was to go. At times, the logo seemed to defy creation.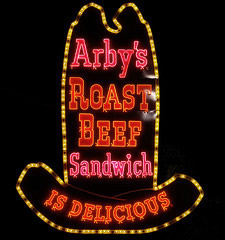 Then, after a long day working with the brothers, we were headed home and as we drove silently along someone said, "Boy, I hope we get home in time to see Bonanza." That was it! Hoss' big tall hat. Then someone suggested, "Why not spell out RB? And, there you have it. The two brothers liked the idea, and the rest is history.
Of course, the "Arby Hat" has been somewhat stylized since its original creation. But if you want to see the original design, there is an Arby's restaurant near where Route 11 exits at Mahoning Avenue. The old logo design is still there promoting Arbys Roast Beef Sandwiches. The restaurants have added many delicious items to their menu, but the hot, shaved roast beef sandwich-envisioned and created by the Raffel brothers remains the backbone of each Arby unit wherever you go.